If you ask five different real estate agents what price point constitutes a luxury home in the Tri-Cities, you might get five different answers.
That's because luxury is as much about the home's features as the price point.
Here in the Tri-Cities, we have some very luxurious homes selling below $1M, and some that sell above a million dollars that may not be considered a "luxury" home.
But that price point — one million dollars — is still often seen as a dividing line, for better or worse. And this much is undeniable: The number of homes sold above the $1M threshold has risen dramatically just in the past couple years.
Take a look at this chart: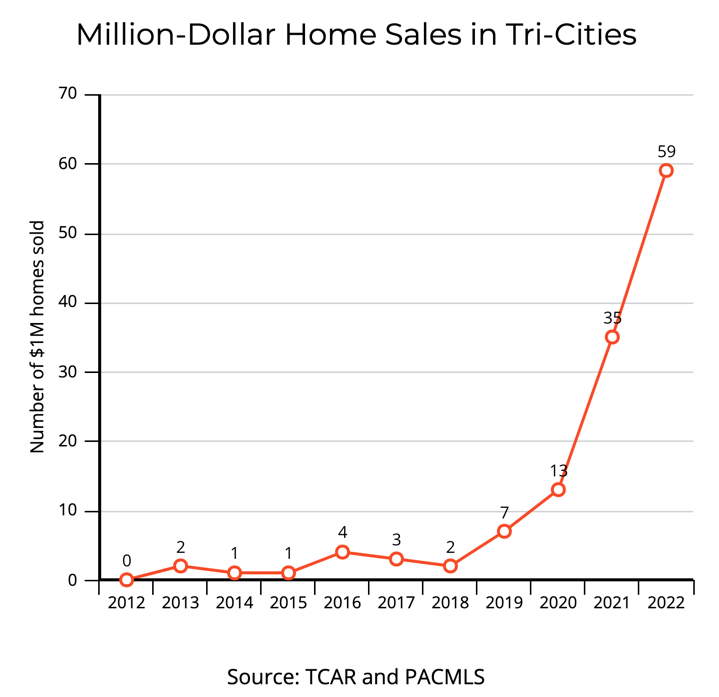 As recently as 2012, we had ZERO sales above $1,000,000! As recently as 2018, we only had two. But then … wow!
In 2021, 35 homes sold for a million dollars or more. And last year, 2022, that number jumped to 59 homes.
Why is this happening? I think it's combination of factors. For one, home prices went up substantially during the pandemic. During the same time, the cost of labor, lumber, and other materials required to build a new home also went up, leading builders to build homes in higher price ranges. And builders are seeing more demand for custom homes with high price tags.
– Cari