Whether you're thinking about moving to the Tri-Cities, or already here but looking for a new home across town, there's some really good news you need to be aware of:
It's about as easy to buy a Tri-Cities home right now as it's been in two years.
That's primarily because the number of homes for sale (what we call home "inventory") across the Tri-Cities is the highest it's been since August 2020. When inventory is up, that typically creates some auxiliary benefits for buyers:
You're more likely to find a home that checks all your boxes.
You're less likely to be involved in a bidding war with other buyers.
You're less likely to need to offer well over asking price to win the home you want.
When we did our housing market snapshot a few days ago, there were 512 homes for sale. You have to go back almost two years, to August 2020, to find the last time our inventory was above 500 homes. That month, we had 529 homes on the market. Take a look at this chart tracking Tri-Cities home inventory since the start of 2020: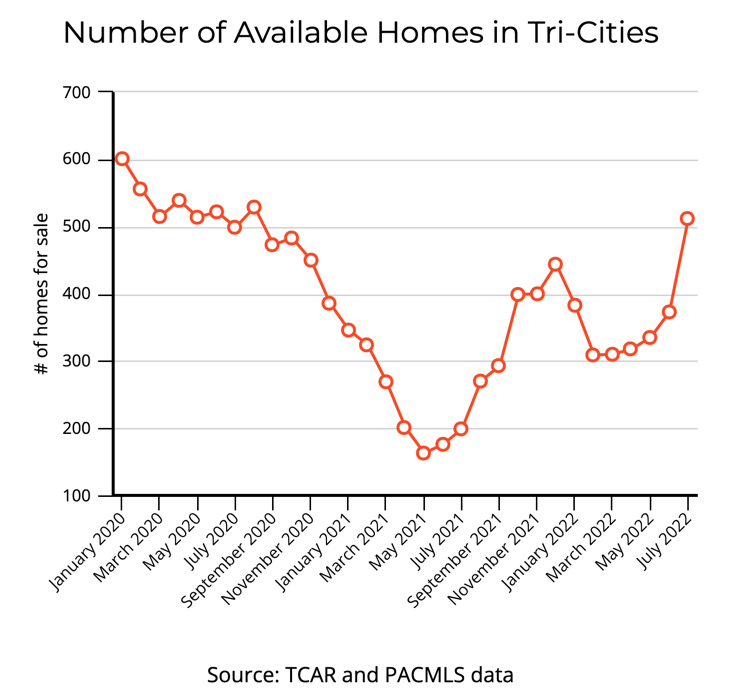 Inventory is up all across the Tri-Cities. Consider this:
If you lost out on a home (or several) because the competition was too intense, or if you were unable to find the right home because there were so few options, now might be a time to try again. It's not guaranteed that you'll have a "walk in the park" compared to last time, but more inventory should make the homebuying process smoother and feel less impossible than it might've felt in the past year or two.
– Cari