With the way Tri-Cities home prices have risen over the past few years, it's no wonder that many people are wondering when that trend will change. Will home prices drop, or at least flatten out and remain steady?
It's an important question whether you're a buyer or seller.
No one knows the answer, and if you're looking for me to grab a crystal ball and make a prediction…sorry, I'll leave it to the economic experts! Let's look at what they think will happen to home prices the rest of this year. 🙂
What's Happening with Home Prices?
This is something you need to understand: Home prices have seen 121 consecutive months of year-over-year increases. That's more than 10 years! According to CoreLogic, home prices across the U.S. appreciated by 6% in 2020 and 15% in 2021.
In the Tri-Cities, home prices appreciated by 8% in 2020 and 16% in 2021. In both years, our rising prices were comparable to what happened across the country, but just a little bit higher.
Why are prices climbing so much? It's supply and demand. There are more buyers than there are homes for sale. This imbalance is expected to maintain that upward pressure on home prices because homes for sale are a hot commodity in today's low-inventory housing market.
Where Do Experts Say Prices Will Go from Here?
As long as the imbalance between supply and demand continues, don't expect prices to go down. In the latest home price forecasts for 2022, experts are calling for moderate price appreciation throughout the year.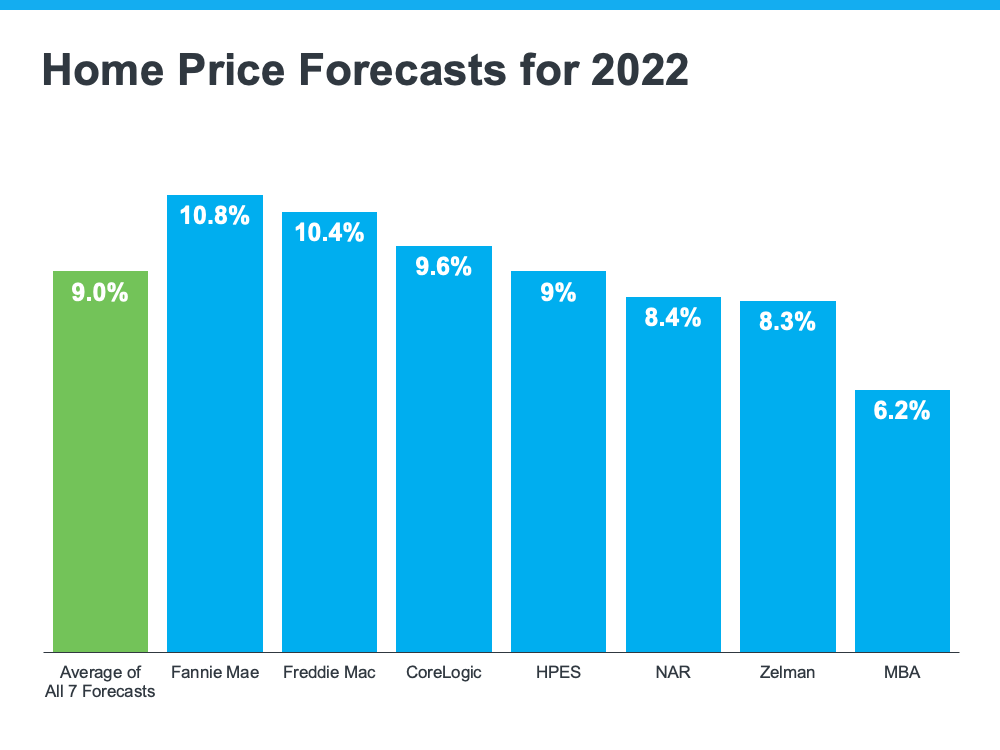 First American explains it like this:
"While house price growth is expected to moderate from the rapid pace of 2021, strong home buyer demand against a backdrop of historically tight inventory of homes for sale will likely keep appreciation positive in the coming year."
The biggest takeaway for you is that no one expects prices to decline.
If you're a homeowner thinking about selling, your home is probably worth more today than it was a couple years ago, but you'll also need to spend more on your next house, too. If you might be buying a home soon, doing that before prices continue to rise might make the most sense. There's no "right" answer for everyone. Talk to your financial advisor about the money aspects of buying/selling, and if you need advice on the real estate side, drop us a note anytime.
– Cari