Among the many myths that go along with buying a home, one of the most common we come across is the idea that you need at least a 20% down payment.
It's simply not true.
A recent Lending Tree survey asked what prevents people from buying a home. For more than half of those surveyed, the main hurdle is the ability to afford a down payment.
That may be because people assume you have to make a 20% down payment. With Tri-Cities home prices recently hitting a median of $400K, a 20% down payment would lead a lot of buyers to give up on the dream of owning a home. But, as Freddie Mac puts it:
"The most damaging down payment myth—since it stops the homebuying process before it can start—is the belief that 20% is necessary."
It's been a while since a 20% down payment has been the norm. According to the National Association of Realtors (NAR), the median down payment hasn't been over 20% since 2005. Get this: Today's average down payment is only 12%. That number is even lower for first-time homebuyers, whose average down payment is only 7%. Take a look at this chart showing NAR data on the down payment percentages that different age groups pay: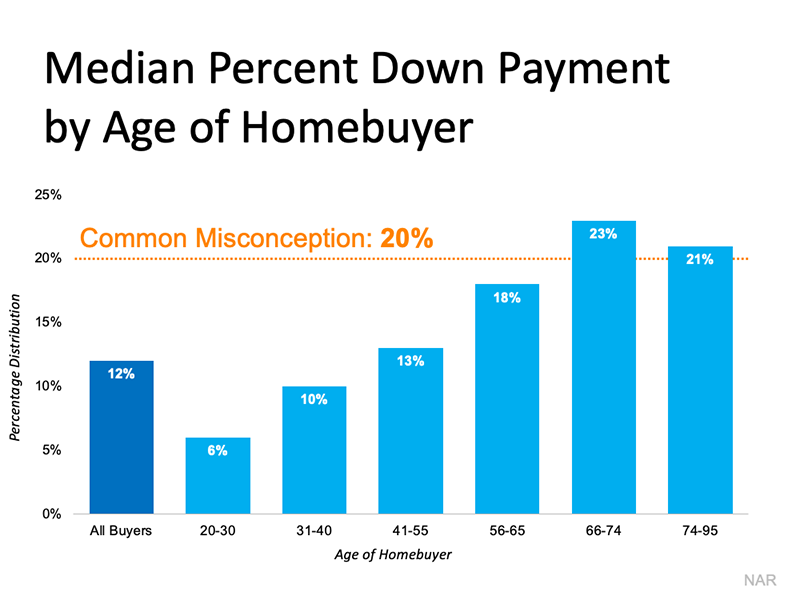 As you can see, the only groups who put 20% or more down on average are older homebuyers. They're probably using the sale of an existing home to make a larger down payment on their next home.
What does this mean for you?
If you're thinking about buying a home soon, keep in mind that you don't have to put the full 20% down. There are programs for qualified buyers that allow them to purchase a home with a down payment as low as 3.5%. VA loans and USDA loans with no down payment requirements are also available for qualified applicants.
If you're interested in learning more about down payment assistance programs, we can help you connect with a trusted lender who will work with you to figure out all of your options in the homebuying process.
Final Thoughts
It's a myth that homebuyers need to put down 20% of the sale price when buying a home. If you want to purchase a home this year, let's connect to start the conversation and explore your options.
– Cari