This might be the best argument ever to stop renting and buy a home: The typical mortgage payment is now lower than the median rental payment.
That's according to the National Association of Realtors, which says low mortgage prices are responsible for mortgage payments going down.
"As of the week ended July 16, the 30-year fixed mortgage rate dropped to 2.98%. With rates so low that are locked in under a 30-year mortgage, the typical mortgage payment, estimated at $1,036, has fallen below the median rent, at $1,045. For potential home buyers who were thinking of purchasing a home anyway before the pandemic outbreak and who are likely to remain employed, the low mortgage rate may be the clincher."
The NAR goes on to explain that the $1,036 figure is what you'd expect to pay on a $298,600 home (the median price nationally) after a 20% down payment and with a 30-year mortgage.
And it's also important to note that the mortgage payment will stay fixed for the length of the mortgage, while rents go up. If you assume a 2.5% annual increase in rent payments, here's what those payments look like over the span of that 30-year mortgage.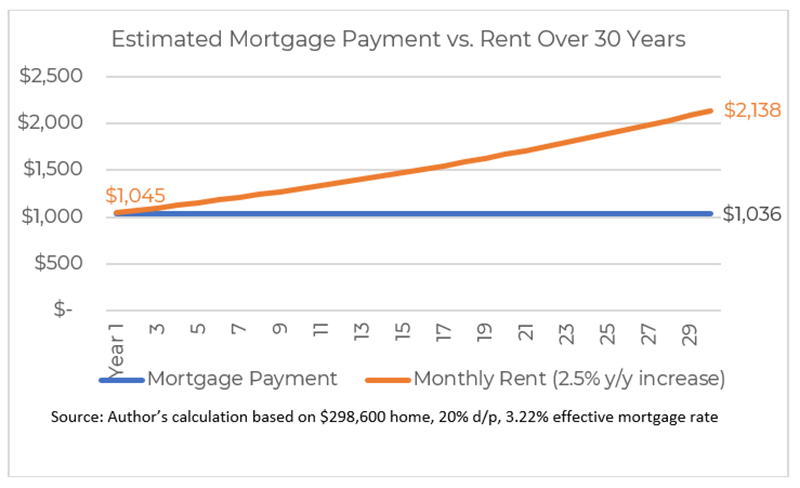 The NAR also says that first-time home buyers made up 35% of the market in June — a couple percentage points up from the typical 29% to 33% that we've seen since 2011 — again, with low interest rates likely the reason why.
Imagine how many first-time buyers (or second- or third-time) might be in the market if we had even a reasonable amount of available homes for sale!
-Cari