You probably know, but just in case: Mortgage rates are currently hovering at or near to all-time lows.
As HousingWire reported just a few days ago, the average rate for a 30-year fixed mortgage fell to 3.29% last week. It goes up and down a bit from one day to the next, but Freddie Mac had never recorded a rate as low as 3.29%.
(If you're curious, the highest interest rate ever recorded was 18.63% in 1981, and the previous low was 3.31% in 2012.)
As a home buyer, you probably know that you want to lock in a mortgage when the rates are as low as possible. But you may not know how the interest rate affects your wallet — i.e., the specific way that rates impact your monthly mortgage payment.
Freddie Mac recently showed how the two relate by using the average interest rates from each of the past five decades and the monthly payment on a $200,000 mortgage: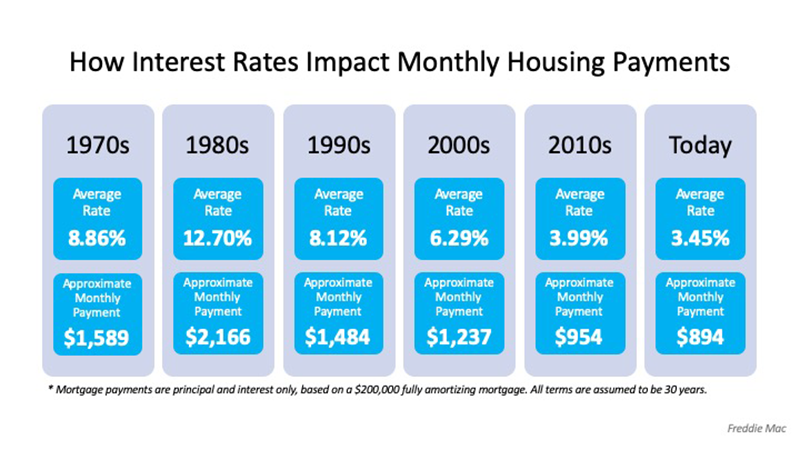 What It Means To You
When rates are low — like they are today — qualified buyers can enjoy much lower monthly payments. And you can get more home for whatever your monthly budget allows you to pay.
If your financial situation allows, today may be a great time to grab a low interest rate. And if you do, you'll spend a lot less on your home over the lifetime of the loan.
Give us a call if you have questions about the home buying process or if you need a trusted lender to help show you how much home you can afford.
– Cari McGee